About Origins Chiropractic and Wellness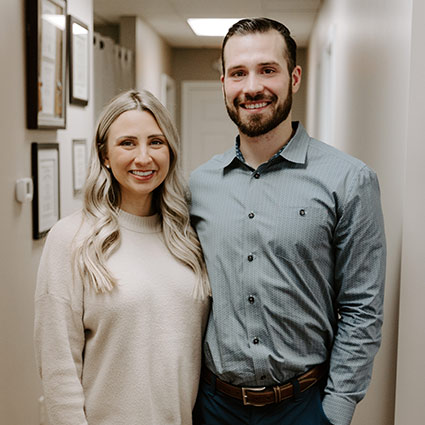 Origins Chiropractic and Wellness opened in the fall of 2021. Dr. Lanza is a Pittsburgh native and was thrilled to return to her hometown with her husband, Dr. Tarnowski, to open the areas first of its kind Orthospinology-Gonstead chiropractic clinic. Dr. Lanza is the only Chiropractic Orthospinologist in Western Pennsylvania. Dr. Lanza and Dr. Tarnowski have found that the combination of their chiropractic techniques gives the ability to better serve each individual and help them heal as a whole. Depending on your specific needs, you will interact with both doctors on your health journey, regardless of which doctor begins your care.
Origins Chiropractic and Wellness is in Bridgeville, in the Abele business park, directly off the Bridgeville exit of I-79, and just 20 minutes south of the city of Pittsburgh. We provide gentle, specific, chiropractic care to allow the body to heal itself as it was designed to do. By removing nerve interference we allow the body to heal and function at its maximal capacity.
What We Offer
Dr. Lanza and Dr. Tarnowski offer comprehensive neurological, orthopedic, and postural exams to get a better understanding of each patient. Our office has a state-of-the-art digital x-ray unit, that has been professionally aligned and leveled to give precise measurements of your spine down to the millimeter. We look at the entire body and how it works and functions, believing no system functions separate from another. For that reason, Origins Chiropractic and Wellness will also talk about nutrition and exercise to help the body heal from within and be more resilient.
Your Upper Cervical Chiropractor: Dr. Erena Lanza
At the beginning of chiropractic school, Dr. Lanza got adjusted every week. After every adjustment she would feel great, but by the end of the week she was in the same pain again. This cycle continued for a year, and it bothered Dr. Lanza that she had not seen any improvement and the chiropractor was not changing their approach. It was then that Dr. Lanza sought out a different, more specific type of chiropractic. She started to see a chiropractic Orthospinologist. After just weeks of care her 3x/week migraines were completely gone, her pain was completely gone, and her mental fog had vanished. She could also now hold her adjustments for 3 months without needing another. It was then that Dr. Lanza began to dedicate all her time to learning more about Orthospinology.
Orthospinology, a type of upper cervical chiropractic care, focuses on the first bone in the spine, atlas, often referred to as C1. This area is of the upmost importance, requiring an ultra-specific adjustment due to the fact it surrounds the brainstem. Orthospinology utilizes specialty X-ray views to provide a 3-dimensional view of the upper cervical spine, specialty analysis system, and a gentle specific adjustment. With the adjustment being so specific there is no popping, cracking, or twisting required. Aligning the atlas has the power to change the chemistry of the entire body and the alignment of the rest of the spine.
Your Gonstead Chiropractor: Dr. Kynan Tarnowski
At the beginning of chiropractic school Dr. Tarnowski found Gonstead. He fell in love with the analysis system and the biomechanical favorability of the adjustment both for himself and for his patients. Dr. Tarnowski also found himself in a situation of a herniated disc that Gonstead chiropractic helped him overcome and get back to being himself. Throughout school Dr. Tarnowski spent lots of time becoming proficient in Gonstead technique both analysis and adjusting.
Gonstead is a system of analysis and adjusting for the entire spine, segment by segment. The analysis includes Visualization of the skin of the back and neck for redness, swelling, blemishes, musculature changes, and gait changes. Instrumentation using a Nervoscope to find the segment(s) that have neurological interference, showing as a severe heat difference between segments. Static palpation to find the pocket of swelling that accumulates with the lack of movement in a joint. Motion palpation to feel the position of the vertebra. X-ray is used to confirm all the findings that the body gives to tell Dr. Kynan if you need an adjustment that day. The adjustments given are gentle, specific, with respect to the biomechanics of the spine and body.
MEET OUR DOCTORS »
Payment Information
Payment is due at the time of service. We accept cash, personal checks, HSA, Care Credit and all major credit cards. We do not directly bill insurance, however, we can provide you with an itemized receipt with insurance codes that you may submit to your insurance. We do this to stay true to our philosophy of providing 100% patient-focused care that is necessary, appropriate, and personalized. This model of care ends up being more cost-effective as our goal is to get your body to hold adjustments longer so visits become less frequent.
Get started today. Let's begin improving your health through chiropractic. Contact us now!
New patient exam, X-rays and adjustment $395
Existing patient visit $70
Cold laser (single treatment) $65
(Packages available)
Book Your Visit Today
Enjoy a life free from pain and discomfort, contact us today to schedule an appointment.
---
About Origins Chiropractic and Wellness | (412) 998-9966